I don't post often, mostly because if I have nothing to say then I don't bother talking
But, since I've just finished a few knives for members here I thought I'd stick some pictures up.
First up, a ring hilted combat safe knife. Blade is about 13" long and the whole thing is made from EN45 si-mn spring steel, left with the hammer marks on the surface. The handle is wrapped with leather and the polished ring has been coloured with heat to give a little accent (though the oxides will rub off).
Next a pair of kitchen knives; large has a blade of about 8". Blades of EN42J high carbon steel, surface has been ground and finished with scrapers and stones (no belt grinders, angle grinders or buffing machines in the Iron Age, so I won't leave those surface finishes!
). Handles or beech with decoration coloured with ochres.
Upping the authenticity a little further. This one has a blade of wrought iron and shear steel (made from the same wrought iron and carburised using charcoal and deer poo), about 3" long. The blade has been stone ground to a fine finish then etched gently in vinegar to make the patterns more obvious. Handle is antler with cow horn guard and a slice of serpentine (aka Lizardstone, from Cornwall) pinned inplace with bronze wire.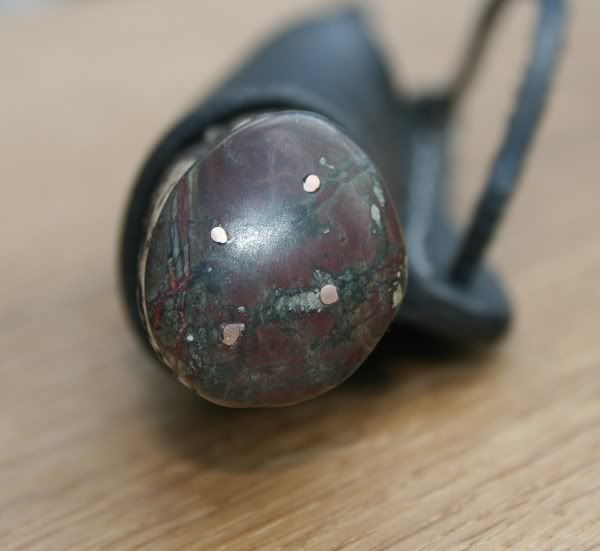 And finally, about as close to 100% authentic as is possible without tanning my own leather and smelting my own iron.... This was a commission for Dru on here. The blade is about 4" and the same shear steel and iron as above, but this time (for experimentations sake) I ONLY used tools available during the Iron Age. So it was all forged close to finished dimension/shape, scraped to final shape (files are too expensive to use for stockremoval and a scraper works very well, especially on iron), then stones used to refine the finish and bring to a polish that was etched again in vinegar. The handle is cow horn and antler, the scrimshaw was taken from designs used on harness fittings from 1st Century AD somerset (Polden Hills) and dyed with chracoal and oil. The whole thing is glued together with birch tar. The sheath has been left undyed and the design was drawn on by Dru and I moulded it whilst wet.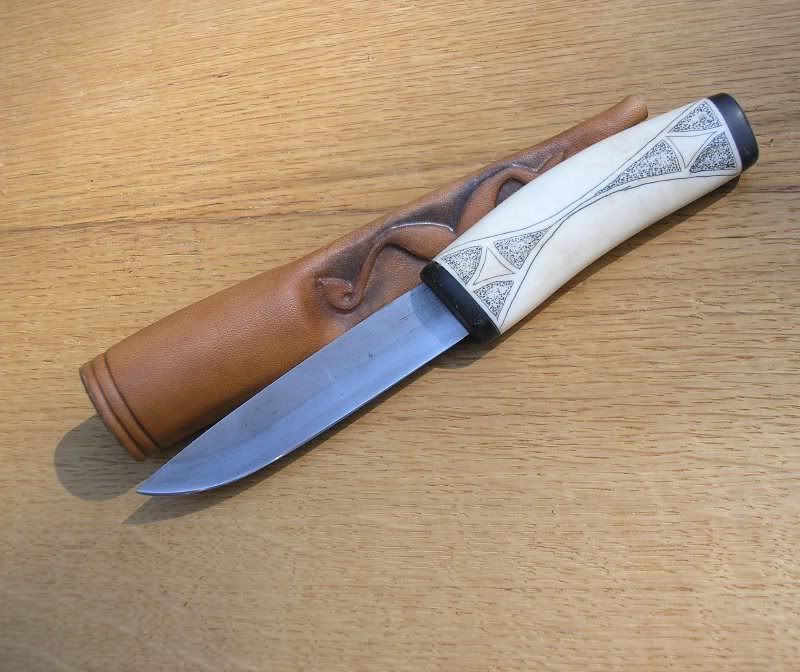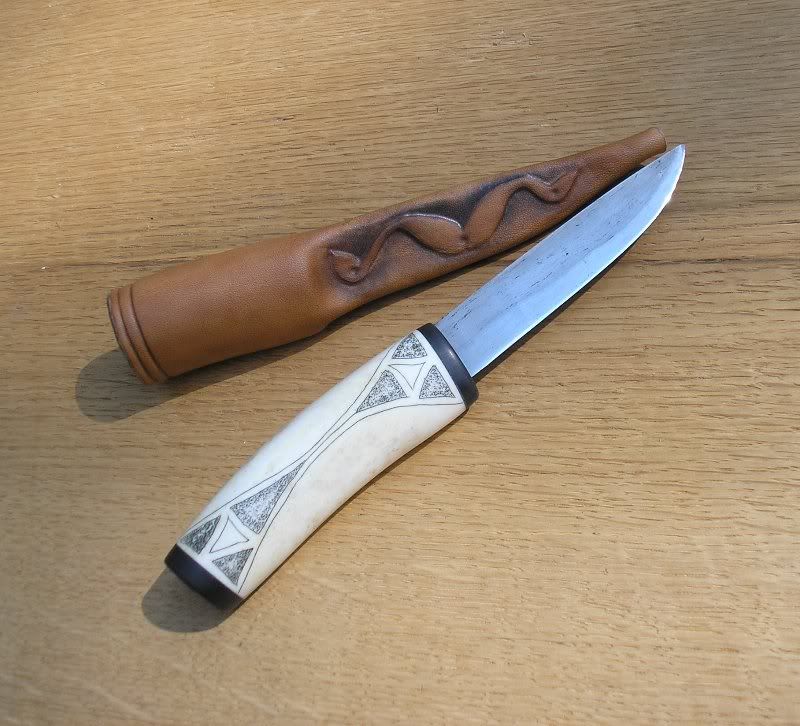 Later in the year I plan to make myself a new knife from iron and steel that I make myself (got the ore, and my own charcoal, just no time), handled with wood from my land and sheathed in some deer hide I've got from a road kill a while back. All because I can